As a California State University (CSU) employee, your pay warrant/direct deposit advice and annual W-2 are issued by the State Controller's Office (SCO).  Previously, these hard copy documents have been the only way to access a record of your earnings from the SCO Payroll System.
Employees have the opportunity to register with Cal Employee Connect (CEC), a tool that provides our employees with instant access to their wages and earnings information, creating opportunities for self-service such as being able to view, print, and electronically save their own W-2s, direct deposit earning statements, and more.
Follow the steps below or refer to the Business Process Guide for further instructions.
Steps to Register with CEC
Have a recent paper pay stub in hand

It has information you will need that is not available from Payroll
You must be a state-side employee

Go to Cal Employee Connect
Select Register
Follow the prompts with these helpful tips:

Select the Department "CSU - Sonoma"
Enter the Agency Code "219"
Enter the Earnings Statement Number of the pay stub from step 1. You will need to enter this number with a leading zero and in the format shown in CEC
Enter the Total Deductions on the pay stub from step 1. 

Once registered, you will be able to login to

View and print your earnings statements/paychecks: current tax year and 2 tax years prior
View and print W-2 information: 3 years are available
Enable CEC MFA
Select User Profile, Click Turn On MFA, and follow instructions within the application to download authenticator App to your phone and enjoy an extra layer of security to your CEC account.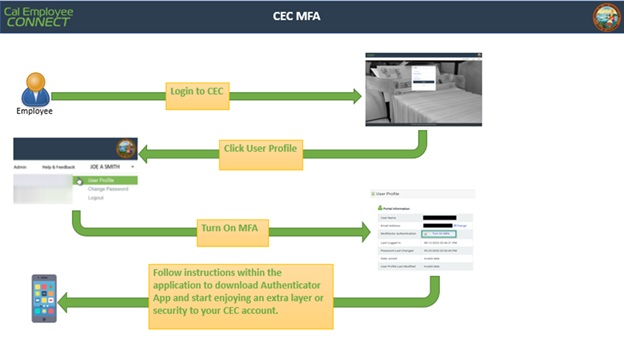 ENROLL OR CHANGE DIRECT DEPOSIT:
Select Employee Services from the top navigation bar and follow instructions within the application.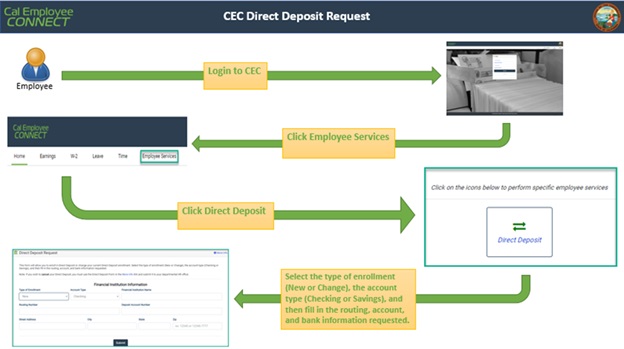 Feedback
If you encounter an issue with your data or identify a problem with the functioning of the application or if you have questions or need assistance with enabling MFA or making changes within the Employee Services feature please contact CEC directly.  You will find links to their feedback address under the Help & Feedback tab within CEC portal.  
Please note that this portal is owned and maintained by the SCO and is not part of CSU's PeopleSoft Self Service. We are excited to participate in this program and we hope you'll enjoy the convenience of this functionality.